Reading Ready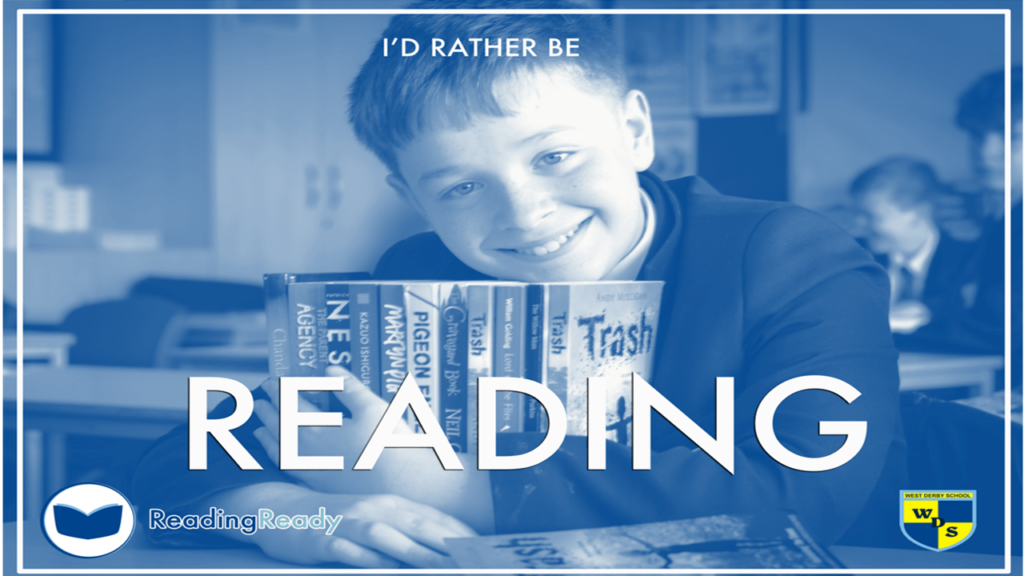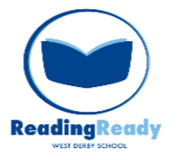 Reading is a priority across the school, so with this in mind we want to develop pupils' love of reading and reading for pleasure. The 'Reading Ready' programme allows pupils to be read to by their form tutor for 25 minutes four days per week.
Books have been carefully chosen for enjoyment and engagement. Thematic links can be made to the themes covered in the PSHE/RSE Curriculum and we have ensured that there is no overlap with the texts being studied within the English curriculum so that pupils can further widen their knowledge and experience.
The books will be read to pupils by form tutors, this will allow for correct intonation and expression of words and engagement with the text. The main focus will be on the fluidity of reading and engagement and enjoyment of the text.
Bookmark (Ruler) Reading
We encourage all pupils to fully engage with the text they are reading. They have each been given bookmarks and are to use these to follow each line and word as the teacher reads to the class.
For National Read a Book Day, we launched a competition for Key Stage Three pupils and set them all the task of designing a bookmark. The winning bookmark was professionally edited and printed to be used by all pupils across the school when reading.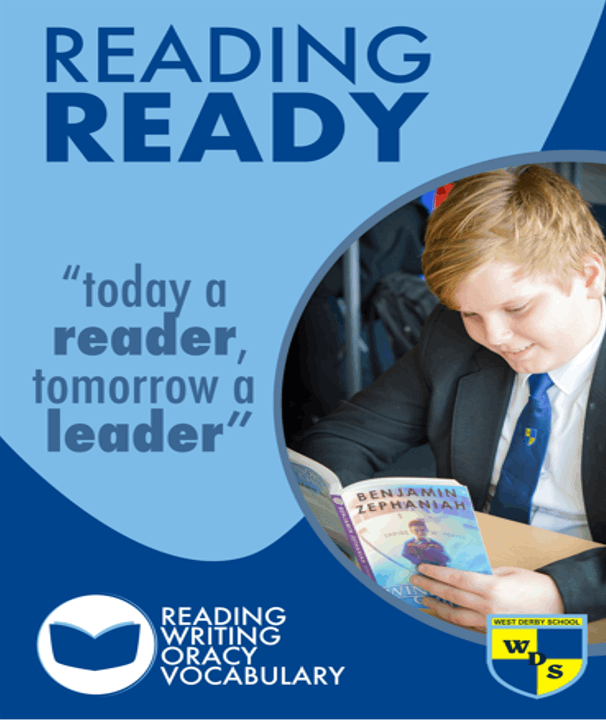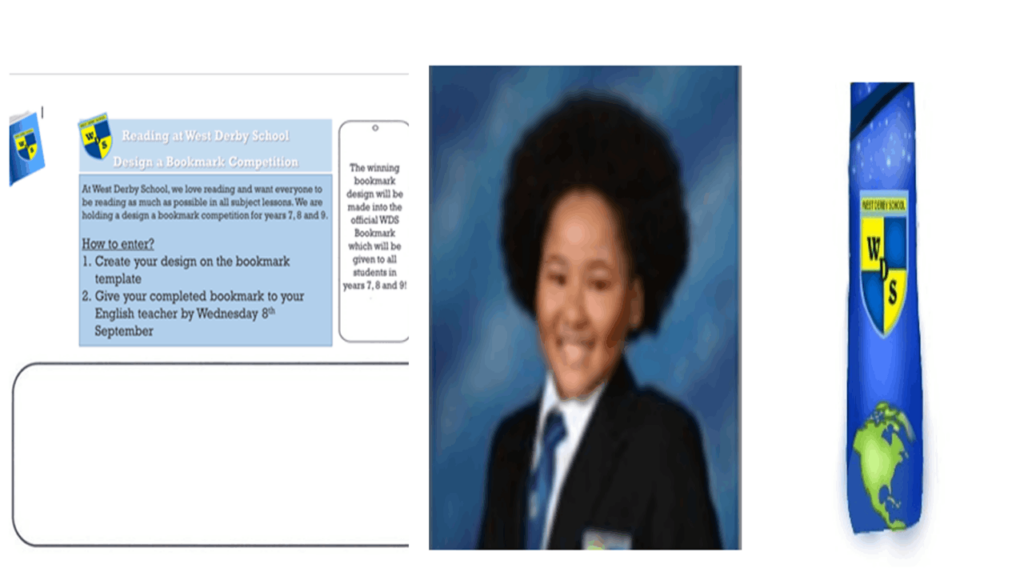 Books, books, books!
The 'Reading Ready' Programme has meant that we have invested in lots and lots more books for our pupils to enjoy. We have purchased 10 different class sets for each year group in KS3 and 4 and we have purchased a few copies of 24 different titles for KS5 to encourage a book club approach.
Form tutors will rotate their reading of each text.
The titles are diverse, classic and contemporary, female and male authors. They take our pupils to places outside of their classrooms and we hope they enjoy and embrace this experience.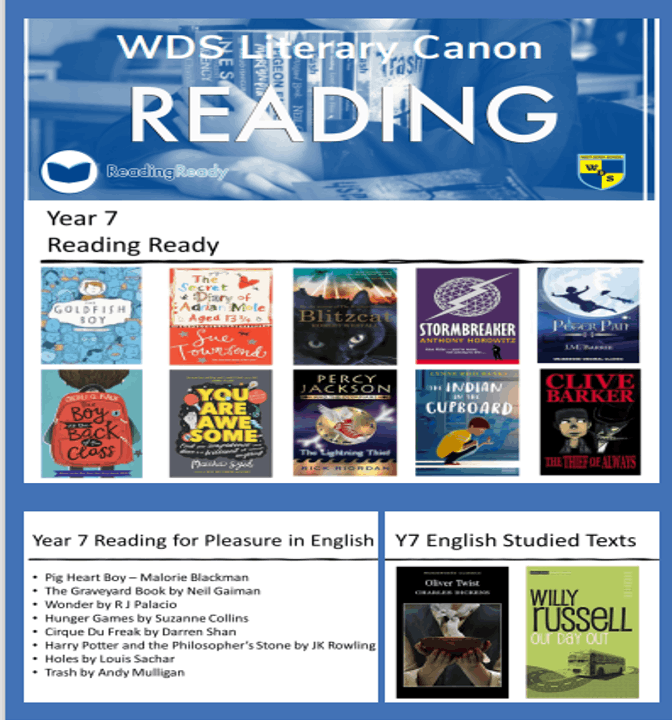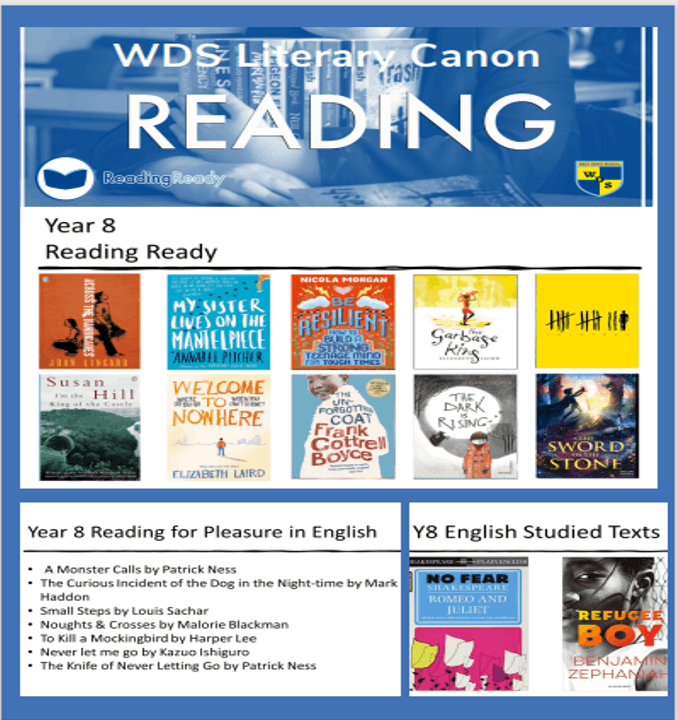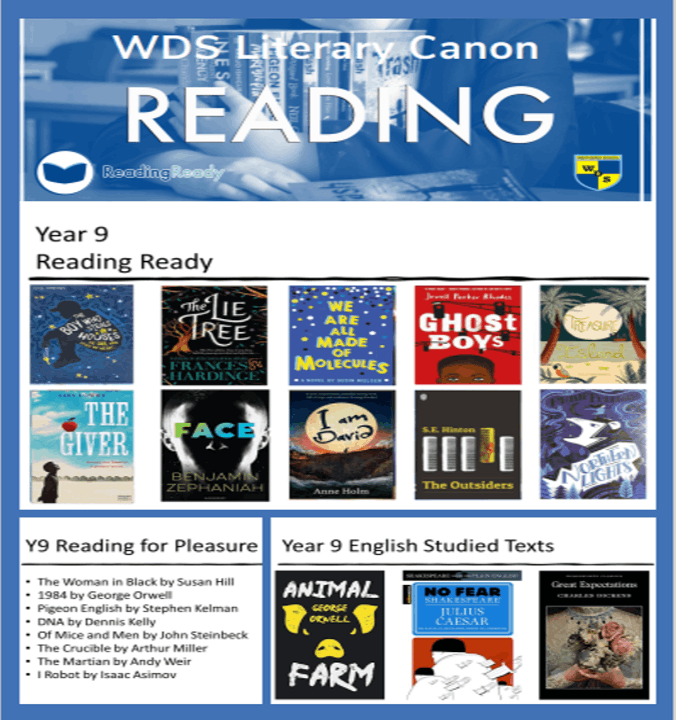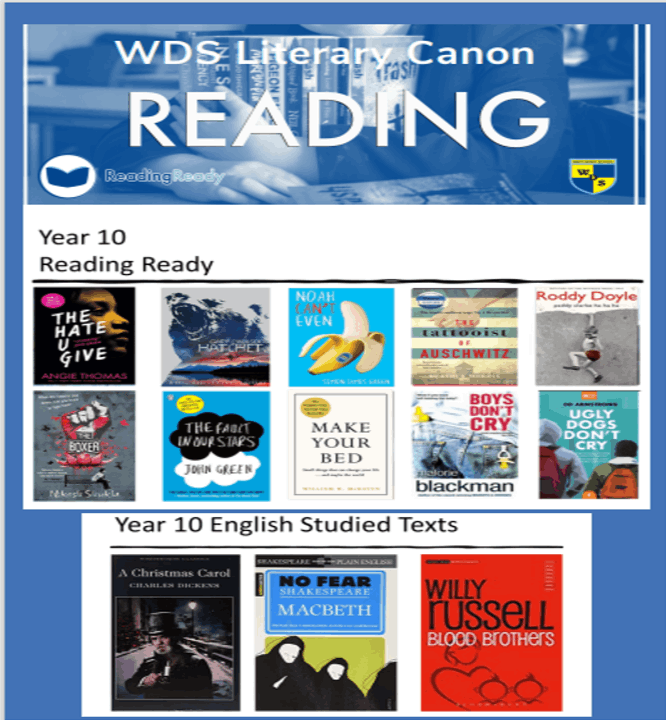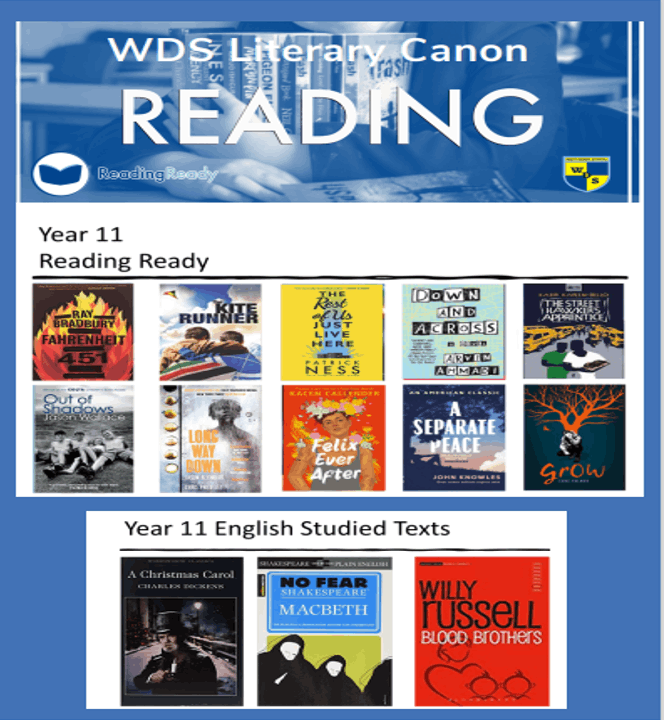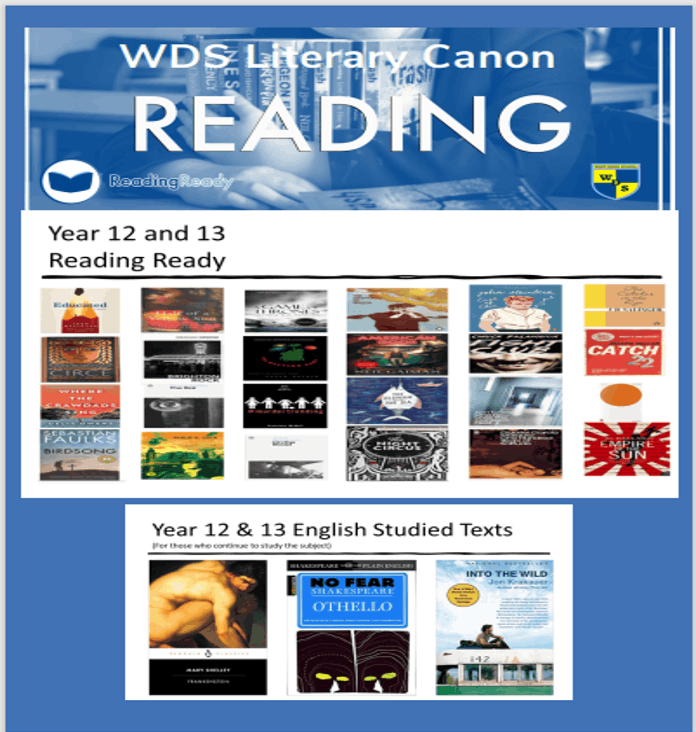 Reading Ready and PSHE/RSE links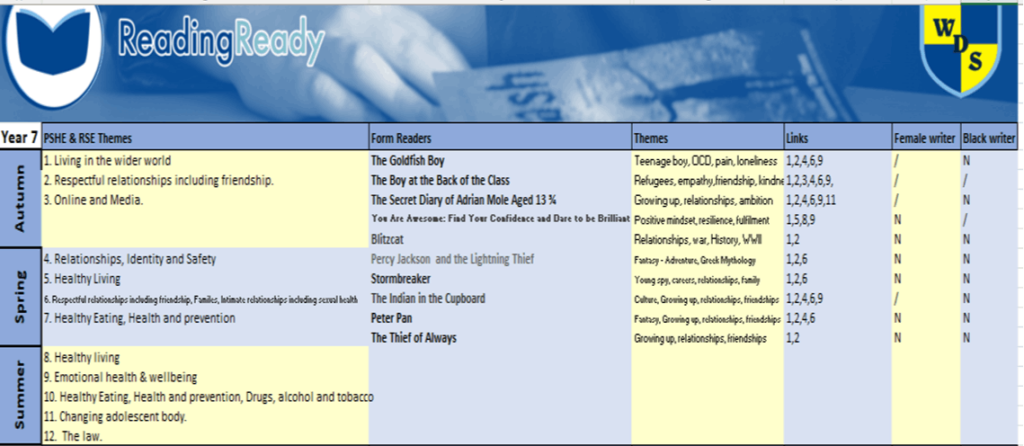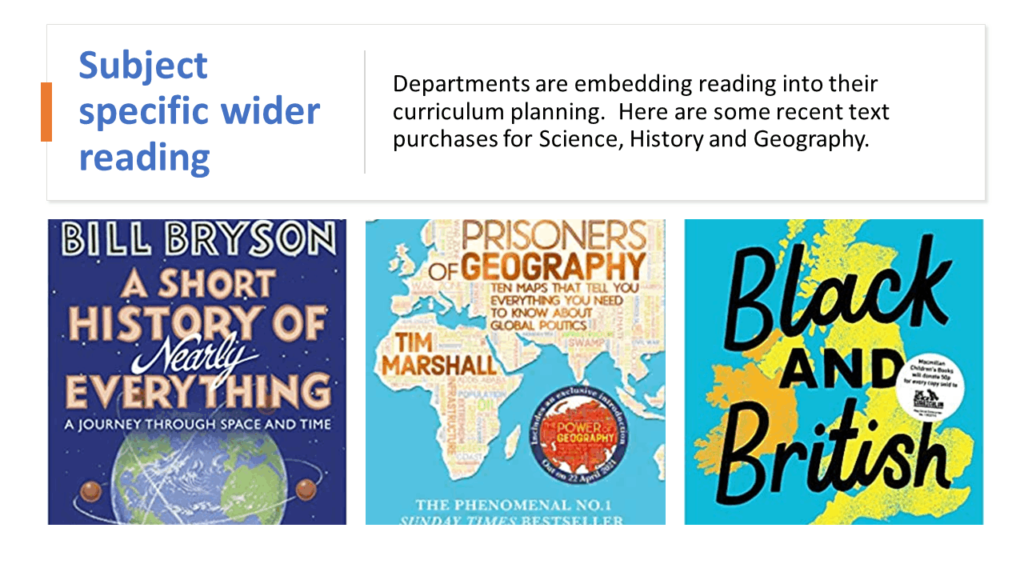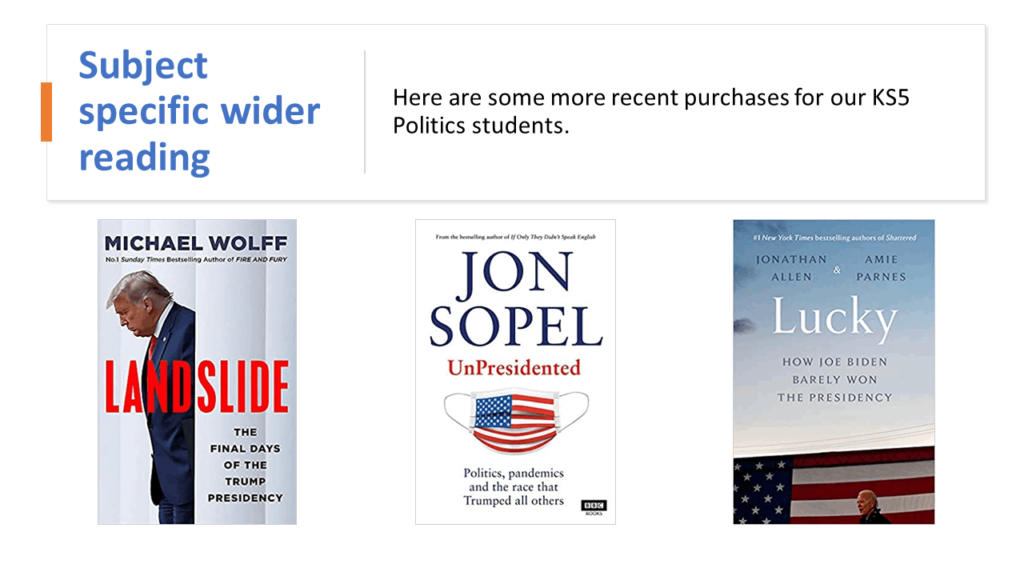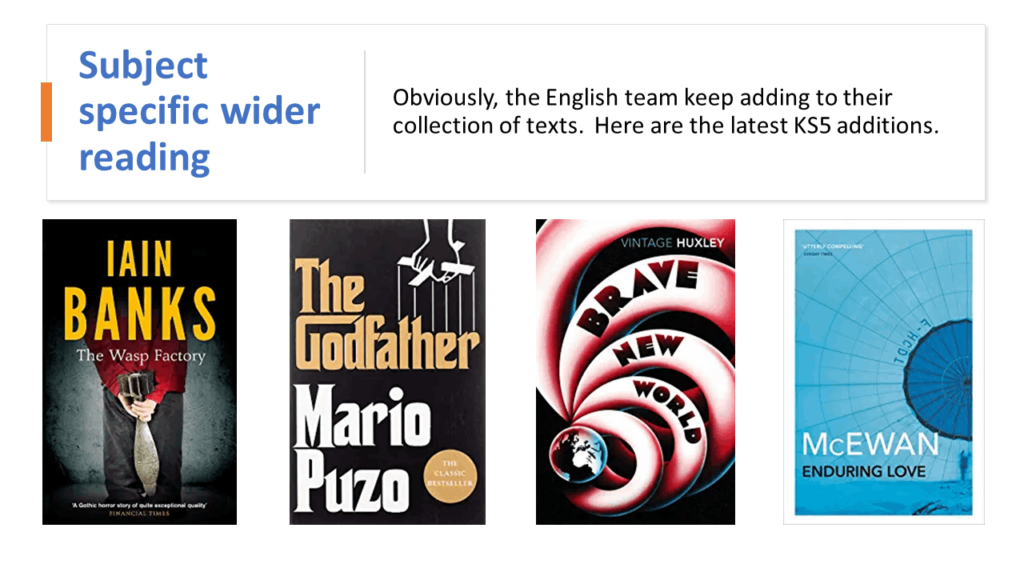 WDS subject specific wider reading lists
Would you like to read more about your subjects beyond what you study in school?
If so, your teachers have put together some wider reading lists for you to immerse yourselves into and enjoy!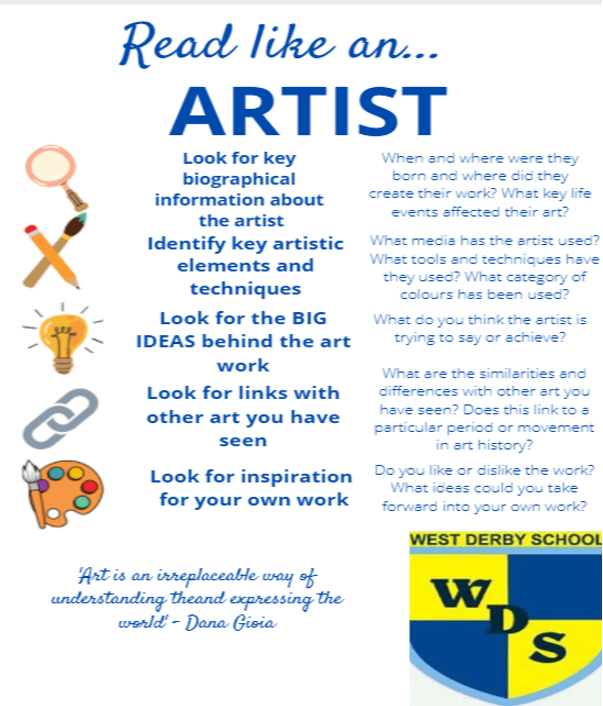 Essential reading – Business
The textbook for Level 2 Cambridge National Enterprise and Marketing (Tess Bayley, Leanna Oliver) is available to buy and there is also an eTextbook version available from Hodder Education or from other outlets.
Similar to this for Level 3 from Hodder Education is a textbook for Cambridge Technical Level 3 Business which is available to buy also. Other textbooks you may wish to buy include Kotler & Armstrong Principles of Marketing and My Revision Notes: Cambridge Technical Level 3 Business (Dianne Wainwright).
Up to date reading
Regular coverage of economic issues appears in serious newspapers such as:
The Times and Sunday Times, The Independent, Financial Times, The Guardian, and of course The Economist.
The BBC News website is also an excellent source of relevant contemporary articles as well as Bloomberg.
Websites
Both tutor2u and BIZ/ed are free for students and teachers and contain lot of useful information as well as links to real businesses. In particular, they contain a considerable amount of economic data relating to a large number of countries as well as extensive theory and revision notes.
The website addresses are www.bized.ac.uk and www.tutor2u.com

Other Useful Websites…
The Office for National Statistics
Interesting Reading
The Business Book: Big Ideas Simply Explained (DK)
Self-Made: the definitive guide to business start-up success (Bianca Miller-Cole)
The Google Story (David A. Vise)
The Toyota Way: 14 Management Principles from the World's Greatest Manufacturer (Jeffrey Liker)
Freakonomics: A rogue economist explores the hidden side of everything (Stephen D. Levitt)
Business Stripped Bare: Adventures of a Global Entrepreneur – Sir Richard Branson
The Intelligent Investor (Benjamin Graham)
No Logo (Naomi Klein)
House of Cards: How Wall Street's Gamblers Broke Capitalism (William D Cohan)

KS4
Adobe Photoshop Classroom in a Book (2021 release)
Graphic Design for Everyone: Understand the Building Blocks so You can Do It Yourself
How to Shoot Video That Doesn't Suck
The Basics of Filmmaking: Screenwriting, Producing, Directing, Cinematography, Audio, & Editing
The Smartphone Filmmaking Handbook: Revealing the secrets of smartphone movie making
KS5
The History of Graphic Design: Volume 1 (1890-1959)
Book of Branding – a guide to creating brand identity for start-ups and beyond
The Graphic Design Idea Book: Inspiration from 50 Masters
Typography: A Manual of Design
The Documentary Filmmaking Master Class: Tell Your Story from Concept to Distribution
Editing and Special/Visual Effects: Behind the Silver Screen: A Modern History of Filmmaking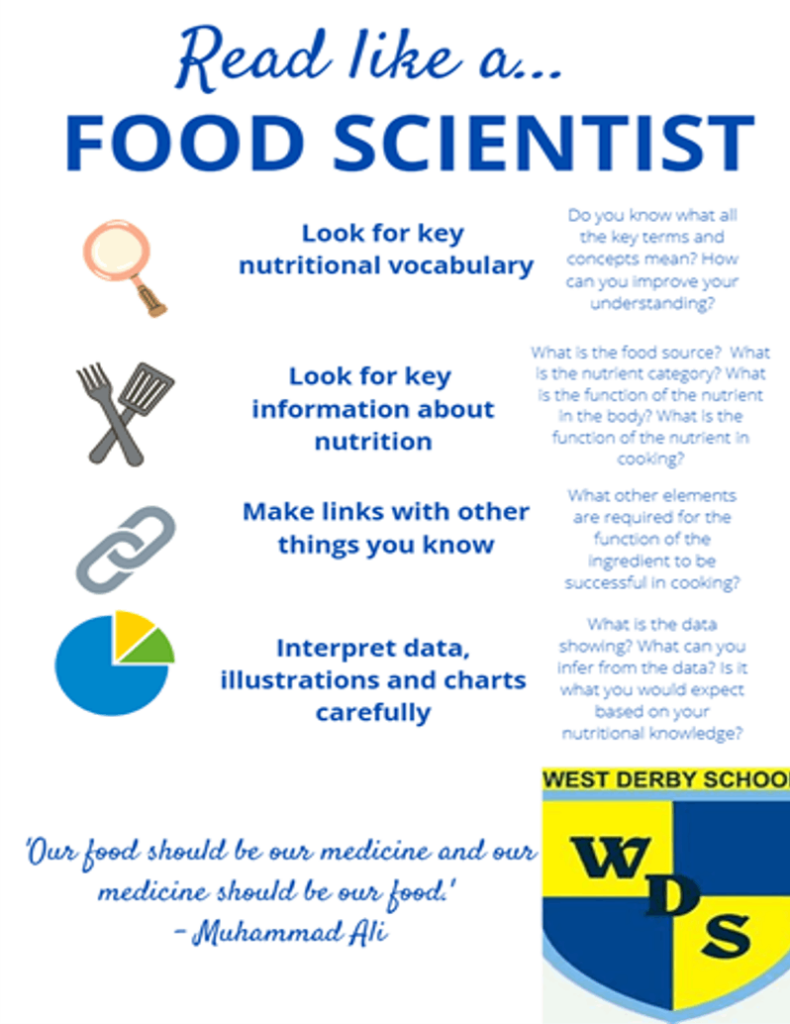 KS3
Food Charlie and the Chocolate Factory – Roald Dahl
James and the Giant Peach – Roald Dahl
Dictionary of Food ingredients – Robert S Igoe
Grinding It Out: The Making of McDonalds – Ray Kroc
Colonel Sanders The American Dream (KFC) – Josh Ozersky
Dinner with Dickens: Recipes inspired by the life and work of Charles Dickens– Pen Volger
KS4
The Theory of Catering – Victor Ceserani
Gordon Ramsey's biography – Neil Simpson (student version)
In search of perfection – Heston Blumenthal
Cooked – Michael Pollan
Scoff: A History of Food and Class in Britain – Pen Volger
Toast – Nigel Slater
KS5
The Madiba appreciation club: A chef's story – Nelson Mandalas personal chef – Brett Ladds
Gordon Ramsey's biography – Neil Simpson (student version)
Is butter a carb? Unpicking fact from fiction in the world of nutrition – Rosie Saunt (Author) Helen West (Author)
The Science of cooking – Dr. Stuart Farrimond
Garlic and Sapphires – Ruth Reichl
KS3
'Touching the Void' – Scholastic Version
Joe Simpson 'Great Adventurers'
Alastair Humphreys 'The Boy who Cycled the World'
William Grill – Ladybird Expert Series: 'Plate Tectonics'
Ben Saunders 'Climate Change' Charles, Prince of Wales 'Evolution'
Paul Burleigh and Raul Colon – a lovely picture book telling the story of how Marie Tharp mapped the Atlantic and helped uncover the theory of Plate Tectonics
'Our Planet' – accompanies the David Attenborough Netflix Series
'World without Fish' – Mark Kurlansky – picture book looking at the decline of fish in the oceans, and the reasons why they are disappearing.
KS4
Steve Jones 'How bad are bananas?'
Mike Berners-Lee 'Solving the Puzzle under the Sea'
'I am Malala – Malala Yousafzai
Hans Rosling – 'Factfulness'
Tim Marshall -Prisoners of Geography',
Alastair Bonnett – 'The Human Planet'
Fast Food Nation: What the All-American Meal is Doing to the World, Eric Schlosser (2002)
Geopolitics: A Very Short Introduction – Klaus Dodds (Author)
KS5
Blood River: A Journey to Africa's Broken Heart, Tim Butcher
Power down: Options and Actions for a Post Carbon World, Richard Heinberg (2004)
The New Rulers of the World, John Pilger
There is no such thing as a Natural Disaster, Chester Hartman and Gregory D Squires
Dead Aid: Why aid is not working and how there is another way for Africa, Dambisa Moyo (2010)
Geographies of Globalization, Murray, W.E. (2006)
Making Development Geography, Lawson, V. (2007)
Blood Diamonds: Tracing the Deadly Path of the World's Most Precious Stones, Campbell, G.
Ecology of Fear, Mike Davis (1998)
The Revenge of Gaia, James Lovelock (2006)
An Inconvenient Truth, Al Gore (2006)
Krakatoa: The Day the World Exploded: August 27, 1883, Simon Winchester (2004)
Six Degrees: Our Future on a Hotter Planet, Mark Lynas (2008)
Cool it: The sceptical environmentalist's guide to global warming, Bjorn Lomborg (2009)
Water A Turbulent History, Stephen Halliday (2004)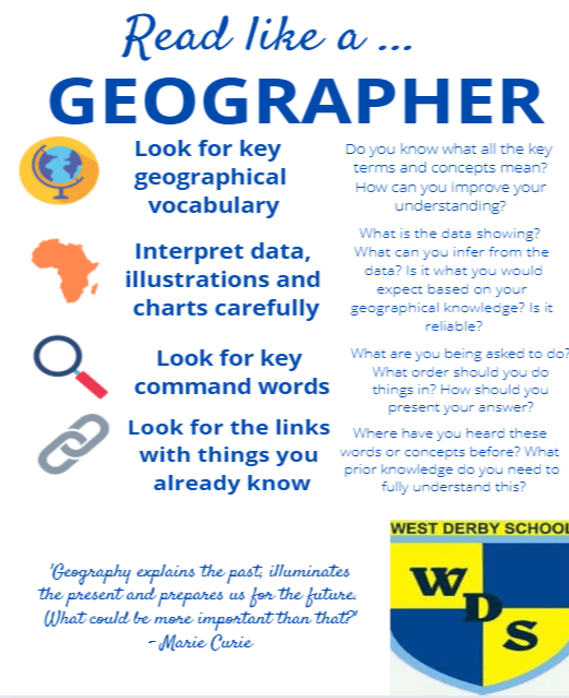 The Time Traveller's Guide to Medieval England (Ian Mortimer)
King of Shadows (Susan Cooper)
My Friend Walter (Michael Morpurgo)
Maus- A Surviors tale- Art Spiegelman
KS4
J. Shuter, A Divided Union? The USA 1945–70 (Pearson, 2009)
Student book for the 'Divided Union' option in the 2009 Edexcel GCSE History A (Modern World) specification, relevant for Key topics 1 and 2. 4.
S. Waugh and J. Wright, The Divided Union: USA 1945–70 (Hodder, 2010)
Student book for the 'Divided Union' option in the 2009 Edexcel GCSE History A (Modern World) specification, relevant for Key topics 1 and 2.
Marc Morris, The Norman Conquest (Hutchinson, 2012) An extremely readable yet detailed account of the Norman Conquest, up to William's death.
Donald Cumming and Jo Philpott, Crime and Punishment Through Time (Hodder Education, 2011)
KS5
Orlando Figes: Revolutionary Russia 1891-1991
Robert Cook: Sweet Land of Liberty
Suzannah Lipscomb: The King is Dead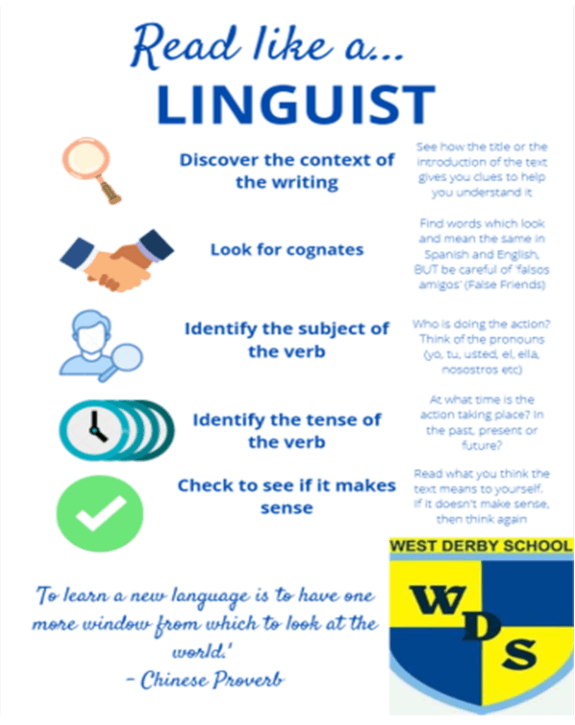 KS4
The Photography Ideas Book
The Photography Book
The iPhone Photography Book
Adobe Photoshop Classroom in a Book (2021 release)
KS5
Photography: The Visual History
The Photography Book
Ansel Adams' 400 Photographs
Mastering Lighting & Flash Photography: A Definitive Guide for Photographers
Adobe Photoshop Classroom in a Book (2021 release)
Vivian Maier Developed: The Untold Story of the Photographer Nanny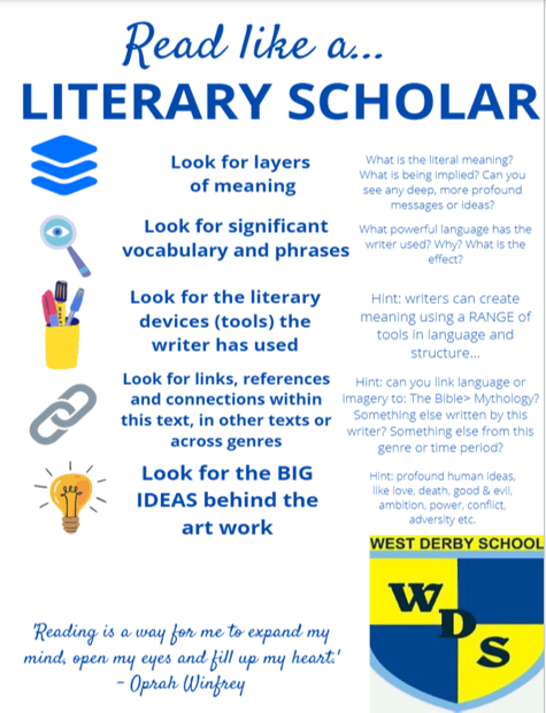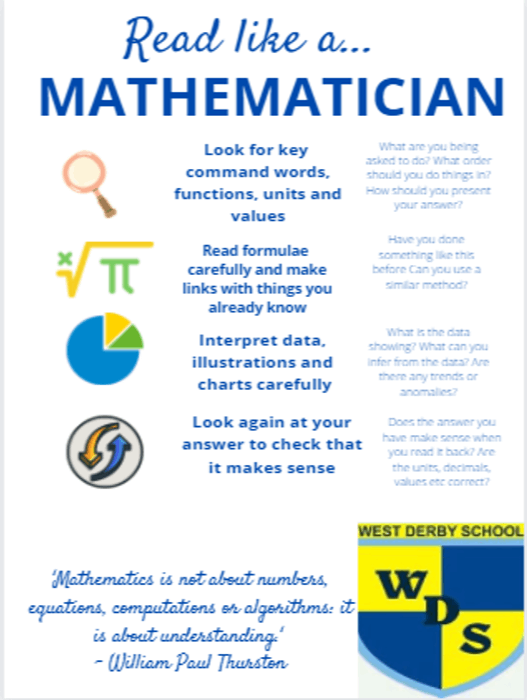 KS3
Alex's Adventures in Numberland – Alex Bello
Alex Through the Looking-Glass- Alex Bello
50 Mathematical Ideas You Really Need to Know – Tony Crilly
Math Girls – Hiroshi Yuki
The Number Devil – Hans Magnus Enzensberger
The Man Who Counted – Malba Tahan.
Gödel, Escher, Bach: An Eternal Golden Braid – Douglas R. Hofstadter
What Is The Name of This Book? – Raymond Smullyan
The Man Who Loved Only Numbers – Paul Hoffman
Surreal Numbers – Donald Knuth
The Cartoon Guide to Algebra – Larry Gonick
The Cartoon Guide to Calculus, – Larry Gonick
The Book of Numbers – John Conway and Richard Guy.
Single Digits: In Praise of Small Numbers – Marc Chamberland
Calculus – Michael Spivak
Hexaflexagons, Probability Paradoxes, and the Tower of Hanoi by Martin Gardner
Ingenuity in Mathematics by Ross Honsberger
The Manga Guide to Calculus by Hiroyuki Kojima and Shin Togami.
The Cat in Numberland by Ivan Ekeland
Birth of a Theorem. by Cédric Villani
The Emperor's New Mind by Roger Penrose
Cakes, Custard and Category Theory by Eugenia Cheng
The Proof and the Pudding by Jim Henle
Théorie des ensembles? By Bourbaki's
Journals/Newspapers/Magazines
American College of Sport Medicine's Health and Fitness Journal
British Journal of Sports Medicine
Exercise and Sport Sciences Reviews
International Journal of Sports Science and Coaching
Medicine and Science in Sports and Exercise
Research Quarterly for Exercise and Sport
Sky Sports Magazine
Websites
American College of Sports Medicine www.acsm.org
British Association of Sport and Exercise Sciences www.bases.org.uk
Human Kinetics www.humankinetics.com
Sport Science www.sportsci.org
Sports Coach UK www.sportscoachuk.org
Top End Sports www.topendsports.com
Brainmac www.brianmac.co.uk
Teach PE www.teachpe.com
BBC Bitesize www.bbc.co.uk/schools/gcsebitesize/pe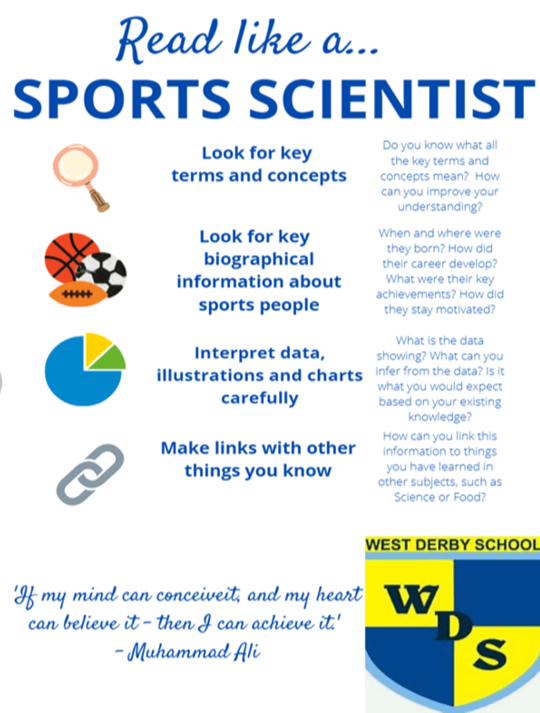 Pearson BTEC Level 2 First Award in Sport – Textbooks
BTEC Level 2 First Sport Student Book (Pearson, January 2010) – Adams M, Beashel P, Hancock J, Harris B, Phillippo P, Sergison A and Taylor
BTEC Level 2 First Sport Teaching Resource Pack (Pearson, April 2010) – Adams M, Beashel P, Harris B, Johnson S, Phillippo P and Sergison A
Exercise Physiology Laboratory Manual: Health and Human Performance (McGraw Hill Higher Education, 2001) – Adams G M Sports Exercise and Fitness: A Guide to Reference and Information Sources (Libraries Unlimited Inc, 2005) – Allen M B
Exercise on Prescription: Cardiovascular Activity for Health (Butterworth- Heinemann, 1999) – Buckley J, Holmes J, Mapp G
Level 2 BTEC Firsts in Sport Student's Book (Folens, May 2010) – Commons R, Rizzo G, Swales M
Level 2 BTEC Firsts in Sport Teacher's Guide (Folens, May 2010) – Commons R, Rizzo G, Swales M
The Health and Fitness Handbook (Longman, 2001- Dalgleish J, Dollery S
Fitness for Games Players (NCF, 1996) ISBN 9780947850104 – Davis J
Fitness Leader's Handbook (Human Kinetics Europe, 1998) – Franks B D, Howley E T
Your Personal Trainer: The Ultimate Guide to Getting Fit for any Sport (Metro Books, 2002) – Fulcher K, Fox P
Fitness for Sport (The Crowood Press, 2000) – Hazeldine R Cross
Training for Sports: Programmes for 26 Sports (Human Kinetics, 1997) ISBN 9780880114936 – Moran G T, McGlynn G
GCSE PE for Edexcel (Heinemann, 2001)– Scott
A Fitness and Health (Human Kinetics, 2006) – Sharkey B J and Gaskill S E
Physical Fitness and Athletic Performance: A Guide for Students, Athletes and Coaches (Longman, 1996) – Watson A W S
Pearson BTEC Level 3 National Extended Certificate in Sports – Text books
BTEC Level 3 National Sport (Development, Coaching and Fitness) Student Book. Pearson, 2010. – Adams Metal, (2010)
BTEC National Sport: Level 3: Development, Coaching and Fitness. Hodder Education; London. – Rea, S, Stanford-Brown, J and Manley, C (2010).
Health Fitness Instructor's Handbook. Human Kinetics Europe. – Howley, E.T and Franks, B.D (2003)
Anatomy and Human Movement. Butterworth-Heineman. Palastanga, N (2006).
Fitness and Health (Human Kinetics, 2006) – Sharkey B J and Gaskill S E
Foundations of Sports and Exercise Psychology (5th ed.) – Weinberg R.S and Gould, D (2011) Human Kinetics; New York.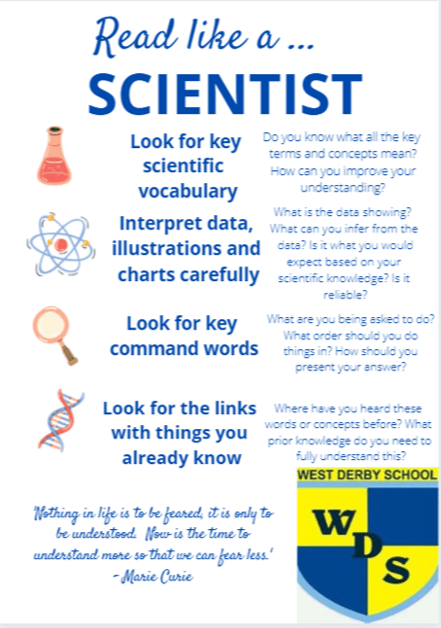 KS3
Once by Morris Gleitzman
Boy in Stripped Pyjamas by John Boyne and Refugee Boy by Benjamin Zephaniah
Me before you by Jo Moyes and The Fault in our Stars by John Green
KS4
The Lovely Bones by Alice Seabold
The Book Thief by Markus Zusak
The Help by Kathryn Stockett and The Curious Incident of the Dog in the Night by Mark Haddon
KS5
Hello? Is Anybody There? By Jostein Gaarder
The Alchemist by Paulo Cohello or a Thousand Spledid Suns by Khaled Hosseini
Republic by Plato